A Trip To Delhi
The ONGC Videsh Head Office is located in the capital of India, New Delhi. To make it convenient for you to reach our office and to ensure a pleasant and comfortable stay for you, we have compiled a brief overview of the city, including travel, accomodation and sight-seeing details.
Location: National Capital Region (NCR), North India
Population: 13,782,976 (metropolitan area)
Ethnic Mix: 72% Indo-Aryan, 25% Dravidian, 3% Mongoloid and other
Religion: 81% Hindu, 12% Muslim, plus Sikh, Jain, Christian and Buddhist minorities
Time Zone: GMT + 5.5
Electricity: 220 volts AC, 50Hz; round two or three-pin plugs are used
Average January Temp: 21ºC (70ºF)
Average July Temp: 35ºC (95ºF)
Annual Rainfall : 715 mm (27.9 inches); monsoon is July-August
<!–On the right: A diagrammatic map to the ONGC Videsh Head Office in Kasturba Gandhi Marg (K G Marg), New Delhi. Please note that the map is representative and not drawn to scale. –!>
By Air
Airport: Indira Gandhi International Airport (DEL) | Tel: +91-11-25652010/11 The airport is located 23 km (14 miles) southwest of central Delhi and is the main international gateway to India. If you are flying to Indian destinations beyond Delhi, please be aware that the Domestic Terminal at Palam is located 5 km (3.1 miles) from the international terminal.
Almost all major international air services fly to Delhi on a regular basis.
Flight Times To Delhi
From London: 8 hours 25 minutes / From New York: 16 hours / From Los Angeles: 24 hours / From Sydney: 17 hoursAirport facilities include foreign exchange (but no ATM), tourist information counter, snack bars, bookshop, duty-free shops, restaurant and resting rooms. There is a Business Centre with office facilities including fax, telephones and photocopiers.
Transport To The City
Metered taxis are available outside the airport. The Delhi Traffic Police Pre-Paid Taxi Booth issues a ticket, which is given to the allocated driver in lieu of a cash payment. Fares should be about Rs 200 – 250 for the 30 – 45 minute drive to central Delhi. The Ex-Servicemen's Air Link Transport Service (Tel: +91-11-331 6530) operates a 45-minute shuttle to and from Connaught Place for Rs 25.
By Road
Routes To The City
North: Grand Trunk Road (National Highway 1) from Amritsar South: Mathura Road from Agra East: National Highway (N2) from Kolkata West: Gurgaon Road (National Highway 8 / N1)
Drive Times To Delhi
From Agra: 2 hours 15 minutes / From Jaipur: 2 hours 45 minutes / From Amritsar: 4 hours 45 minutes
Coach Services
Delhi is linked by bus services – air conditioned, deluxe and ordinary – to all major destinations in northern India. The Interstate Bus Terminus (Tel:011-2386-0290), at Kashmir Gate, north of Old Delhi Railway Station, is the terminus for all intercity bus services. Facilities include left-luggage, bank, post office, pharmacy and restaurant.
By Train
Delhi is the hub of the Indian Railways (Tel: 1330, 1335; www.indianrail.gov.in) network, and has two major railway stations, one each in New Delhi and Old Delhi. The New Delhi station, east of Pahar Ganj (Main Bazaar) is within walking distance of Connaught Place. The Main (Old) Delhi station, west of Red Fort, is about 7 km (four miles) from Connaught Place. All stations have waiting room and restaurant facilities. An Online Booking Service (http://irctc.com) is available.
Rail Services
The International Tourist Bureau (Tel: +91-11-23346804, 23405156) at New Delhi station is for foreigners only and takes payment in US Dollars or Pounds Sterling. The main ticket office is at IRCA Building, Chelmsford Road, Pahar Ganj. The Indrail Pass, valid for seven to 90 days and costing US$ 80-1060, allows unlimited travel for the period of validity.
Luxury Hotels
The Imperial / The Oberoi / Taj Mahal / Taj Palace / Maurya Sheraton / Hyatt Regency / Grand Hyatt / The Manor / Grand Intercontinental / Radisson
Five Star Hotels
Crowne Plaza Surya / Le Meridian / Park Royal Intercontinental / The Park / The Claridges / The Metropolitan / Nikko / Vasant / Siddharth / Welcome Marriot / Ashoka / Oberoi Maidens
Standard Hotels
Janpath / Kanishka / Vikram / Bristol / Centaur / The Qutab / The Ambassador / Hans Plaza / Diplomat / Nirula's / Marina
Budget Hotels
Regent Continental / Lodhi / Alka / Broadway / Asian International / Host Inn / Fifty Five / YMCA / YWCA
Lal Quila (Red Fort)
The Red Fort's massive curtain wall and battlements dominate the skyline of Old Delhi. Inside, the bastions – built, like the nearby Jama Masjid, by Shah Jehan – are an array of exquisite seventeenth-century Mughal buildings, which provided the living quarters for the Emperor, his courtiers and family. The flawless balance and

proportion of these buildings, as well as their intricate decoration, is wonderful to behold and in complete contrast to the military might of the fort itself. Sadly, the water conduits that once cooled the dwellings and gardens are now dry. The Lahore Gate, west of the fort, was a potent symbol in the fight for Independence and is regarded as a shrine of the Republic. Hours: Daily dawn – dusk Admission: Rs 235 (foreigners)
Jama Masjid
Jama Masjid is India's largest mosque and one of the masterpieces of the Mughal's greatest builder, Shah Jehan. A huge courtyard, bounded by an arcade and pierced with three gates, lies in front of the prayer hall, which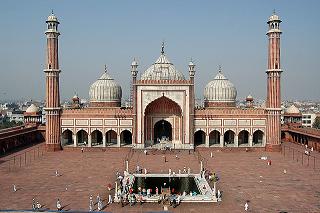 achieves serenity and peace from the perfect harmony of its arches, domes and spaces. The courtyard, which can accommodate 25,000 worshippers, is dominated by two red-and-white-striped sandstone minarets, 70 m (230 ft) tall. Hours: Daily dawn-dusk; closed during prayer times Clothes: Shorts and short-sleeved shirts not permitted; wraps can be borrowed Admission: Free; plus Rs 10 (minaret) and Rs 100 (for cameras)
Qutab Minar (Mehrauli)
The Qutab Minar is an immense tower, started at the end of the 12th century to commemorate the Muslim conquest of Delhi. Standing 72.5 m (238 ft) tall, it is built of fluted red sandstone and decorated with calligraphy representing verses from the Koran. The top two levels are faced in white marble. The Minar rises above a site

that is home to the oldest extant Islamic monuments in India. There is the Ala-i-Darwaza, complete with horseshoe-shaped arches, lotus-leaf squinches and elaborate geometric patterns. Next to that, stands the Quwwat-ul-Islam, the first mosque to be built in India. So anxious were the new rulers of Delhi to erect a mosque that they pilfered 27 Hindu and Jain temples for building materials. Many of pillars that surround the courtyard are carved with Hindu iconography, which is curiously at odds with the Islamic calligraphy of the Muslim prayer screens. Incongruously, in the centre of the mosque stands the fourth-century Iron Pillar, bearing inscriptions from the Gupta period. Hours: Daily dawn – dusk Admission: Rs 475 (foreigners)
Rajpath And Rashtrapati Bhavan

Rajpath runs between the Secretariat Buildings and India Gate, the war memorial designed by Lutyens in 1921. Rajpath is a formal conception, lined with trees, fountains and pools, intended by its architects Lutyens and Baker as the epicentre of British India. The Secretariat Buildings combine monumental classical and oriental detail and are an imposing statement of colonial power. Rashtrapati Bhavan is an immense palace – supposedly larger than Versailles – that was built as the residence of the Viceroy and is now the official home of the President of India. Every Saturday morning (0935-1015), guards parade before the iron grille gates.
National Museum
It takes a good few hours to get a decent overview of Indian culture at the National Museum, which is filled with exhibits covering over 5,000 years of history. Highlights include excavations from Indus Valley civilisation sites; carved pillars and statues from the Maryan empire (250BC); Gupta terracottas dating from AD400; sandstone

figures from Pallava temples; stone and bronze Buddhist statues; Tibetan manuscripts; Mughal clothing, tapestries, ornaments and weapons; Naga models and masks; silk paintings from Central Asia; and a gallery of 300 musical instruments. Tel: +91-11-301-9538. Opening hours: Tues – Sun 1000-1700 Admission: Rs 150 (foreigners)
Humayun's Tomb (Lodhi Road, Mathura Road)
Often seen merely as a forerunner of the Taj Mahal, Humayun's Tomb is, in its own right, a stunning example of the Mughal architectural style, combining dome, mausoleum and plinth in perfect proportion. The Tomb is set in

a square garden designed along Persian lines, shaded and geometric, crisscrossed with waterways and paths. In the grounds, there are some other monuments, including the Tomb of Isa Khan. Hours: Daily dawn – dusk Admission: Rs 475 (foreigners)
Baha'i Temple (Kalkaji Hill)
Also known as the Lotus Temple, the modern Baha'i Temple has often been compared to the Sydney Opera House. Giant white petals of Rajasthani Macrana marble open out from nine pools and walkways in the shape of an unfolding lotus,

symbolising the nine spiritual paths of the Baha'i faith. Inside, the central hall rises to a height of over 30 m (98 ft) without the visible support of any columns. Visitors should take their shoes off before entering. Hours: Daily 0900 – 1900 (summer); 0930 – 1730 (winter) Closed during prayers (1000 – 1100 and 1600 – 1700)
Purana Qila (Mathura Road)
Humayun's sixteenth-century Delhi had at its centre the fortress of Purana Qila, whose crumbling remains reputedly stand on the site of Indraprastha, the city of the Pandavas in the Mahabharata. Of the buildings that survive

today, the Qila-i-Kuhna Masjid was constructed in 1541 by Sher Shah and represents a successful fusion of the Islamic and Hindu styles. The Sher Mandal is an octagonal observatory and library. The north gate, Talaqi-Darwaza, has been partially rebuilt and gives an impression of how formidable the fortifications would have been in their heyday. There is a small museum just inside the south gate. Hours: Daily dawn – dusk (fortress); 0800 – 1830 (museum) Admission: Rs 235 (foreigners)
National Gallery of Modern Art (Jaipur House, India Gate)
The National Gallery of Modern Art (Tel: +91-11- 23384560, 23382835) contains a large collection of twentieth-century Indian art. There are examples of the work of the painters of the Bengali Renaissance and of the poet

and artist Tagore. The galleries are housed in Jaipur House – by any yardstick, a grandee's townhouse – formerly the Delhi residence of the Maharaja of Jaipur. Hours: Tues – Sun 1000 – 1700 Admission: Rs 150 (foreigners)